The crucial role of battery storage in achieving Net Zero
We're not talking about the collection of used batteries that might have accumulated in your kitchen drawer over the past few years; Battery storage, or battery energy storage systems (BESS) refers to the devices in place that facilitate the storage and delivery of energy from renewable sources like wind and solar.
It is an incredibly important technology that enables homes and businesses to be powered by green energy even when the wind isn't blowing, or the sun isn't shining (as can be the case quite often in Blighty!) The UK in fact, boasts the largest installed capacity for offshore wind in the world. This is most valuable when we can save up all that clean, renewable energy and store it to deploy to homes and commercial sites as demand dictates.
By 2050, the UK government estimates that these battery storage technologies could save the UK energy system up to £4 billion – ultimately greatly reducing our own energy costs at home. The plan is to phase out fossil fuel plants, and gradually introduce more battery storage to achieve net zero in carbon production, and supply reliable, steady, green energy to the nation.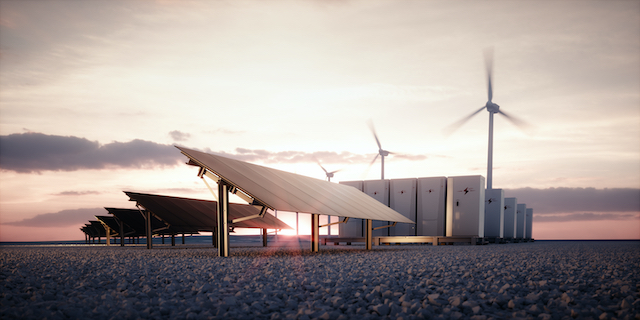 What renewable energy storage systems are being developed?
Lithium-ion batteries were developed by a British scientist in the 1970s and were first used commercially by Sony in 1991, for the company's handheld video recorder. While they're currently the most economically viable energy storage solution, there are a few other technologies for battery storage currently being developed. These include:
Compressed air energy storage
With these systems, generally located in large chambers, surplus power is used to compress air and then store it. When energy is needed, the compressed air is released and passes through an air turbine to generate electricity.
Mechanical gravity energy storage
One example of this type of system is when energy is used to lift concrete blocks up a tower. When the energy is needed, the concrete blocks are lowered back down, generating electricity using the pull of gravity.
Flow batteries
In these batteries, which are essentially rechargeable fuel cells, chemical energy is provided by two chemical components dissolved in liquids contained within the system and separated by a membrane.
With the UK leading the way in offshore wind production, and the acceleration on for battery storage technologies, it is an exciting and innovative time for green energy. The road to net zero carbon production is a long one, but we're firmly on our way.

Fourblue's knowledgeable Hannah runs the desk for battery storage roles, so if you are needing to hire within that sector, or looking for a job, please do get in touch!
h.turner@fourblue.com 01892 234999